Learning & Skills Development Session
Register  (on line until May 28) or on-site on-the-day.
Saturday Morning May 30th 2015
Starting at the Waskehegan trailhead there will be a variety of activities available to suit all levels of ability from complete beginner to advanced orienteer.
Possible activities:
Beginners and novices
Safety compass bearings
Basic beginners clinics (introduction to map reading, map handling and map symbols)
Kids Run Wild families activities with their coaches
Map walk following pin flags with stations demonstrating contour features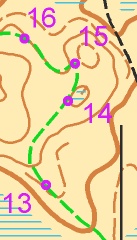 13. Spur; the ground is lower on three sides and higher on the fourth
14.  Depression; a closed contour loop with a tag line pointing in.  Tag lines point downhill from the contour they are on.
15.  Low hill;  a closed contour loop with no tag is a hill.  This one has a dashed brown line (form line) which shows it is less than a full contour
16.  Travelling along a contour you are staying at the same level.
Intermediate and advanced orienteers:
These are some of the activities that may be offered.
[/caption]