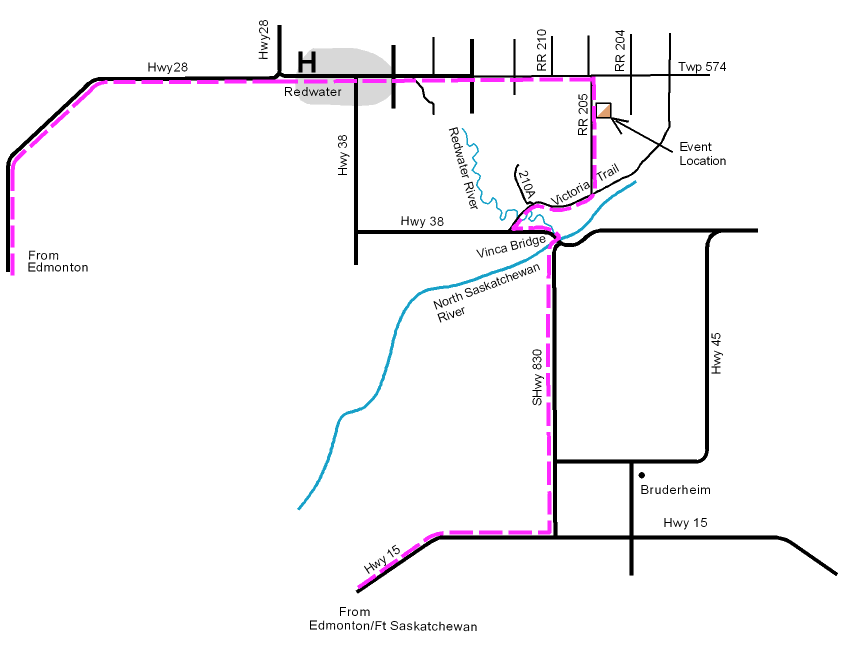 For Saturday May 25, the start/finish will be on the EAST side of RR 205, about 2.2km south from Twp 574 and about 2.7km north from Victoria Trail. Park on the EAST side of the road, please.
The H on the map is the location of the Hospital (adjacent to the RCMP office). The Tim Hortons is closer to the junction with Hwy 28.
From Strathcona Wilderness Centre:
north on RR212 to the Yellowhead (Hwy16).
West ~ 5km
North on SH 830 for ~ 21km (T-junction)
East on Hwy 25 for ~ 6.5km
North on SH 830 for  ~ 11km (T-junction)
West onto Hwy 38, across Vinca bridge. Turn right onto Victoria Trail. Left onto RR 205.
From Edmonton (simplest route): take Hwy 28 north then take the Redwater turn-off. From the Tim Hortons, drive straight due EAST, for approx 12km.  The road changes from paved to gravel, and the road number changes TWICE!  Just drive straight. At RR 205, turn right/south